The Bentley Flying Spur is the flagship model for the manufacturer. It is offered in three engine options.
Bentley unveiled the Flying Spur Mulliner at the 2021 Monterey Auto Week in California. Mulliner is the top of the line Flying Spur. Now the luxury manufacturer has introduced a Black specification for the Flying Spur Mulliner. It received quite a few cosmetic upgrades over the regular Bentley Flying Spur Mulliner. The manufacturer blacked out all the chrome trim.
Bentley hasn't blacked out its Winged 'B' badge. The satin silver on the mirror caps has now been replaced with Beluga gloss black. The Mulliner matrix vents are now also blacked out and finished with bold Mulliner branding. The radiator grill remained black, and the lower grills of the bumper are also made in black.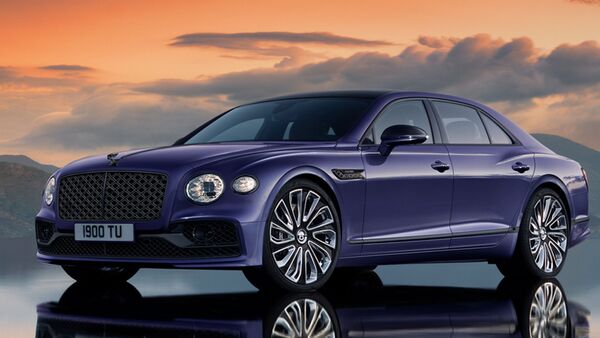 The manufacturer also offers optional black 22-inch Mulliner wheels, or the owner can get 22-inch high-gloss black Mulliner wheels that come with self-aligning badges and chrome rings. The Black Specification will be offered with lighter exterior color palettes to make the blacked-out overlays pop and be easy to distinguish.
There are no interior changes compared to the Mulliner edition. So customers can define and choose any color combination they want. The interior consists of three colors. There is a main, a secondary and an accent that the customer can choose.
The Black Specification is offered with three engine options. There's a V8, a W12 and a new V6 Hybrid. The 6.0-liter W12 has two turbochargers and produces 626 horsepower with 900 Nm of maximum torque. Then there's the twin-turbocharged 4.0-liter V8. It produces 542 horsepower and 770 Nm. Finally, the new 3.0-liter hybrid V6 produces 410 horsepower and 550 Nm. The electric motor produces 138 horsepower and 400 Nm. The total power is 536 horsepower and 750 Nm.
Date of first publication: August 17, 2022, 10:06 AM IST
https://auto.hindustantimes.com/auto/news/bentley-reveals-flying-spur-mulliner-with-blackline-specification-41660660348923.html