Internal history
Sitting in the heated driver's seat with eight directions, your attention is drawn to the star attraction – a 15-inch portrait touch screen that allows you to touch a variety of applications, hold your finger and pinch. and features.
Ford's latest-generation SYNC system, which features cloud connectivity and voice recognition, provides twice as much computing power as its predecessor, helping to make navigation, music and smartphone connectivity faster and easier. The system is compatible with Apple CarPlay and Android Auto. Bluetooth, DAB radio and USB front and rear connectors are also standard.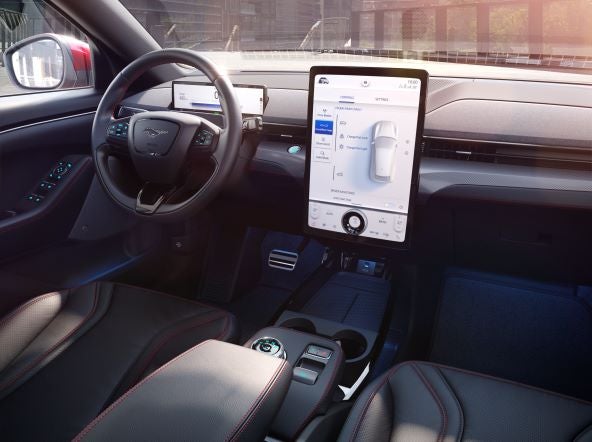 SYNC allows you to adjust 80 parameters of the car, from the temperature in the cabin and the position of the seat to the ambient lighting. TomTom provides real-time traffic information and forecasts; Garmin provides in-car and cloud routing. Trips can be planned in advance using the routes transferred from the FordPass app to the car. SYNC can also independently advise drivers where and when to charge while traveling, as well as provide access to the availability and cost of a charging station in real time.
The rest of the cabin is a combination of refined, modern design and smart functionality. Some clever design and technique provide an amazing capacity of the rear seats and ample space for cargo. Wires for electric charging are stored under the hood between the plastic storage dividers, providing 100-liter drained storage space. The trunk can swallow 402 liters of luggage, and its volume can grow to 1420 liters, reclining the back of the rear seat. The boot itself has many mounting points and hooks to keep things safe while driving. A flat floor means the three adults can sit quite comfortably in the back for short trips. Each front seat back has a convenient magazine holder. Door boxes are usually a decent size, although in order to squeeze a bottle of water, you need to maneuver a bit.
As for the audio, the B&O sound system includes a number of speakers located behind the grid on the dashboard that looks and sounds great. A floating, reclining armrest simultaneously serves as a storage space for wallets or bags. Traditional Mustang design elements such as a double hood dashboard
The panoramic glass sunroof has a special coating with infrared protection that helps the cabin stay cooler in summer and warmer in winter. In addition, the inner layer between the glass helps protect against ultraviolet rays.
It has become easier to get into an SUV and start it with the help of "Phone as Key" technology. Using Bluetooth, the car can detect customers 'smartphones as they approach, unlocking it and allowing them to start driving without taking the phone out of their pocket or key. A backup code can be entered into the amazing and gorgeous keypad on rack B to unlock the car, and a separate code on the central touch screen to launch and control the vehicle in case the phone's battery runs out. When you get out, it rings a ringing tone to confirm that the car is off. So far so good.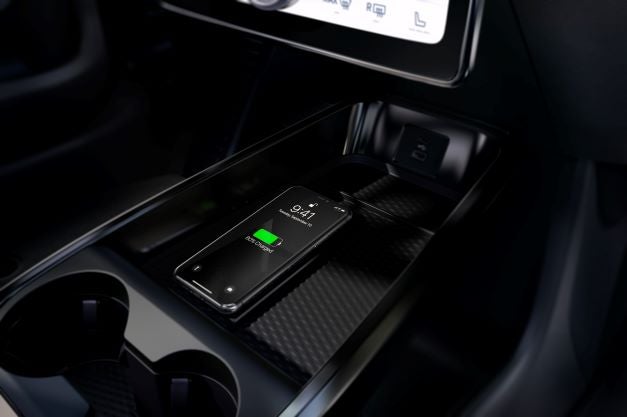 Other features of comfort and convenience of the creature include heated and electrically driven driver and front passenger seats, heated windows, heated windshield, wireless charging pad, additional single pedal drive, rear door with electric pedals and sliding advancement, forwarding, forwarding , and dual-zone electronic air temperature control.
Advanced driver assistance systems
As expected, the Mach-E boasts a host of ADAS equipment. Although he himself can not manage… yet. ADAS technologies include pre-collision assistance with pedestrian detection (designed to reduce the severity and, in some cases, even mitigate frontal collisions involving vehicles and pedestrians), adaptive cruise control, distance alert technology (helps drivers maintain appropriate vehicle in front) and a warning to leave the lane (it does what is written on the can.)
On the road
It is offered with a standard or extended rear-wheel drive or all-wheel drive motor with permanent magnets. The Mustang Mach ‑ E, equipped with an extended-range battery and rear-wheel drive, has a target driving range on a purely electric basis of about 370 miles, although in late winter we saw a range closer to 300 miles between charges. Ford also offers a production version. The Mach-E GT aims to accelerate from 0 to 62 mph in less than 5 seconds, as well as approximately 465 PS (342 kW) and 830 Nm of torque.
The Mach-E 4 all-wheel drive system independently applies torque to the front and rear axles to provide impressive acceleration and improved handling compared to the rear-wheel drive model. Mach-E is also available with Brembo Flexira aluminum calipers, which support the functionality of a fixed caliper, while being designed with floating caliper dimensions. The Mustang Mach-E GT is also equipped with MagneRide damping system, adaptive suspension technology that allows drivers to hug the road, providing an exciting and comfortable ride.
Drivers can match their driving experience with their mood using optional driving modes. The "Whisper", "Active" and "Untamed" modes are designed to immerse the driver in the moment, changing what he sees, hears and feels while driving
In general, seriously stylish and spacious interior Mach-E has many options. Although the cabin lacks color, it is far from boring. Its clean, far-sighted cabin looks business-like. While the minimalist panel means adjusting almost everything with the touch screen, the graphics are very sharp and responsive. In this attractive SUV, which combines the old with the new, little is not liked. And that's exactly what should be for the price of 58,000 pounds for the version with an extended range of 346 hp. Competitive models include the VW ID.4, Volvo XC40 Recharge and Tesla Model Y.