By Troy Templin
No different from car or motorcycle enthusiasts (and just to paraphrase the most important words of the U.S. Bill of Rights), "We hold these truths to be self-evident that bike geeks like to spend money making their bikes look special." We all know that for the simple pleasure of just riding a bike just about any entry level build will get us from point A to B just as well as a $12,000 race bike. Ah, but that's when the importance of both performance and aesthetic enter the fray. A bike that's 4 pounds lighter with lightweight wheels; quicker, battery-operated shifting; and a host of carbon and titanium parts can definitely enhance the rider's experience and maybe even… performance.
When it comes to the aesthetic, aka "the bling," everyone loves to add a touch of personal flair. And from something as simple and inexpensive as colored handlebar tape to flashier custom-built wheels with anodized Chris King hubs, the bike industry is happy to play along. In SoCal especially, there has long existed a weird but entertaining competition to build the most expensive, flashiest bike—a bike, which I would often add, is sometimes, too, a compromised bike. I say "compromised," because as I often see riders flaunting some new pinnacle hardware, I can tell it's not the correct fit for them. Sure, it's new and fancy and probably made in Europe, but is it really serving a purpose to improve ride quality, performance or safety? Most of the time, the answer is simply no; it's really just there to act as bike-talk fodder for the cafe stop.
THE WHAT AND WHY
In the last few years I've observed one component upgrade growing in popularity, and that's the oversized derailleur pulley wheel (OSPW). However, along with their popularity has also come a spirited debate about their worthiness not unlike the tired argument between rim and disc brakes advocates. Oversized pulley kits can include just the pulley wheels themselves or be part of a package that includes a new derailleur cage. The cages are typically constructed of composite, have upgraded bearings and are held together with titanium or high-grade alloy fittings. The pulley wheels can be aluminum or titanium and are larger in diameter. 
Most notably, CeramicSpeed, Kogel, Absoluteblack and SLF Motion have hit the market hard with replacement rear derailleur cages that utilize much larger pulley wheels. And while each brand has its own selling pitch, the main claim to fame is that they decrease the articulation of the chain, thereby minimizing resistance and watts used. In short, they are meant to make you go faster. One thing is certain, though—they aren't cheap!
"No different from any other debate, was the rider feedback I heard from people running the oversized pulleys."
When looking at a stock derailleur, most come with 11- or 12-tooth upper pulley wheels. The lower pulley on a stock derailleur can match the top or, in some cases, be as large as 14 teeth. The aftermarket options are all over the place, but in most cases the top will be 12–14 teeth with the lower pulley getting the real oversized boost at upwards of 18–19 teeth.
In an attempt to better understand what a modification like this could do, I started asking around—from friends on the group ride to an RBA test rider (who also happens to be a NASA navigation manager) and riders who had the modification installed. I also spoke to the brands that make the components that are being modified and a few other companies that offer bearing upgrades for stock and altered rear derailleurs. The weird part about all of the conversations was that everything is theory. In reality, most made the upgrade in vanity, not data-driven benefits. The overall experience, performance and lifespan of a rear derailleur would be compromised for a nominal, if any, advantage. Thus, most brands determine it's a non-starter idea.
WHAT THE BIG GUYS SAID
Who better to ask about the design of rear derailleurs than the folks that make them? Both Shimano and SRAM had the same response and feedback on larger pulley wheels, and both admitted that they make specific derailleurs with larger pulley wheels. They also wanted to clarify that if they felt that the larger diameter was of any benefit, they would produce them that way. The bottom line is that they both believe there is a substantial level of compromise either in overall performance or reliability.
One of the most impactful things that came up was the use of a larger wheel on very low-end derailleurs. Both Shimano and SRAM said that they are utilized in the entry-level product to increase chain retention (friction) with more points of contact on the chain when the overall design needs to be less expensive. Pretty much the springs on the cheap derailleurs need to be light to make shifting easier, and the larger wheel offers more chain contact when there is excessive vertical movement (chain slap). It should be noted that these products are sub-$25 retail and have a very different purpose and consumer audience than the products we usually see. 
WHAT ABOUT BEARINGS?
During all of our conversations, talk about the bearings used was a frequent topic, and everyone agreed that better bearings are the way to go. Forget the pulley size and who makes what; an actual measurable upgrade are bearings, and no one is debating it. This isn't news, and, in most cases, one of the most notable upgrades to a more expensive derailleur is the stock bearing used in the pulley wheels. 
We spoke to the folks at Enduro who produce bearings of all types and is part of a company that makes bearings for industries far beyond cycling. Essentially, they think that making a larger pulley isn't hard, so if it were beneficial, everyone would be doing it. Enduro mentioned that there isn't much load on a pulley, but that the upper wheel needs to have very tight tolerances to ensure quick and precise shifting. At the same time, the lower pulley needs to have a bit of play. This is a balancing act, as you don't want so much that the chain hits the cage but enough that it helps reduce friction when the chain is not in perfect alignment.
Enduro has been doing noise and material testing for many years, as they developed their own pulley wheels. It didn't take long for them to realize the oversized trend brought a compromise in shift quality. They also discovered that an alloy pulley wheel was not the optimum choice. The chain quickly wears the alloy down and negatively impacts the lifespan and function of the chain. Enduro believes that a wheel made from polyoxymethylene (a thermoplastic that is infused with PTFE lubricant) offers the best results.
Much of their research also determined that minor modifications to the design of the pulley wheels offer substantial benefits. For example, they use a smooth wheel now instead of the more popular drilled version. This minimizes the buildup of debris and makes the system much easier to clean and maintain. Enduro has also started using a rib reinforcement just below the teeth. This adds rigidity and has made simple things like lubing the chain with a wax-based lube easier.
TESTING FOR RESULTS
Last, we talked to the brands that make the kits. There is without a doubt passion and testing being done that show beneficial results. All of the products are very well made and, in my opinion, would probably meet the same standard the derailleur companies set. There are, however, a few flaws I see. 
First, they rely on the consumer to install or have the product installed. If you have ever disassembled a derailleur, it's easy to mess it up and not an easy task to reassemble. Next is that all of the performance results I saw were pulled from controlled tests in "laboratory" settings and not out on the road. The likelihood that your chain is ever in perfect alignment with any cog in the rear as it travels to the chainring is fiction. From my perspective, by not taking into account the full scope of what the derailleur is meant to do or how well the drivetrain is adjusted by the consumer  are things to consider.
No different from any other debate, was the rider feedback I heard from people running the oversized pulleys. There were those who loved them and made sure every bike they owned used them, and there were those who made the modification and found a distinct drop in shifting performance. One rider who mentioned his large pulley wheel upgrade had three positions to prioritize how effective the friction savings are. On one end, you get the least resistance with poor shifting, while on the other you prioritize shifting and sacrifice efficiency. This person mentioned they had theirs in the shift-priority setting, and the gear changes were still less responsive than stock. The fact that this is even an option means that these companies know that shift quality is the sacrifice you will be making.
THE CHOICE IS YOURS
Long story short, there is an inherent risk in modifying a rear derailleur. It will no longer be covered under warranty and will not function the same by design. Whether this trade-off is better or worse is something only you can decide. For sure, there is no doubting their easily visible bling factor, and those we spoke to who made the upgrade were more than aware of that. They mention the benefits, usually the bearings, but the driving factor for their purchase seems to be aesthetics and group-ride status. 
For me, sure, they look good. However, the fact that they can negatively impact shifting means that I would personally save my money. Instead, I'd suggest looking for a bearing upgrade. This seems to be the best of both worlds, with shifting maintained and friction reduced. For me, a derailleur works best when it shifts quickly and precisely with no need for a facelift. Still, I do applaud these brands for offering these upgrades, because they are helping push the sport and technology forward in addition to increasing any rider's sense of pride and satisfaction. 
THE OVERSIZED OPTIONS
SLF Motion EVO System
SLF Motion has one of the most exotic and original designs offering a standard and aero model. The American-made kits utilize 14-tooth upper and 18-tooth lower aluminum pulley wheels. The cages are made of carbon fiber and the aero version completely encases the lower pulley. Overall, SLF Motion offers multiple color options, and a titanium option that kicks the price up to $995.
Price: $595
Enduro XD-15 Pulleys
The Enduro XD-15 is a stock cage pulley-wheel replacement that utilizes a hybrid ceramic bearing that has precision-ground, cryogenically treated nitrogen steel races with silicon-nitride grade 3 ceramic balls. They are USA-made at Enduro Bearings' facility in California, and they claim these will outlast your derailleur's lifespan. The Delrin polymer is mixed with PTFE, reducing the overall friction while ensuring a long lifespan.
Price: $200
CeramicSpeed OSPW
CeramicSpeed has led the charge on reducing friction with a wide range of beautifully crafted, premium products that can cost upwards of $1800. The OSPW is their option for those who want to add the bling and reduce friction. Depending on the brand of derailleur, there are lots of options, but the base system features an alloy 13-tooth upper pulley wheel and an alloy 19-tooth lower pulley wheel. The pulley wheels can also be purchased separately and come fitted with either standard or coated CeramicSpeed bearings starting at $270. Upgrade to titanium for $650.
Price: Starting at $529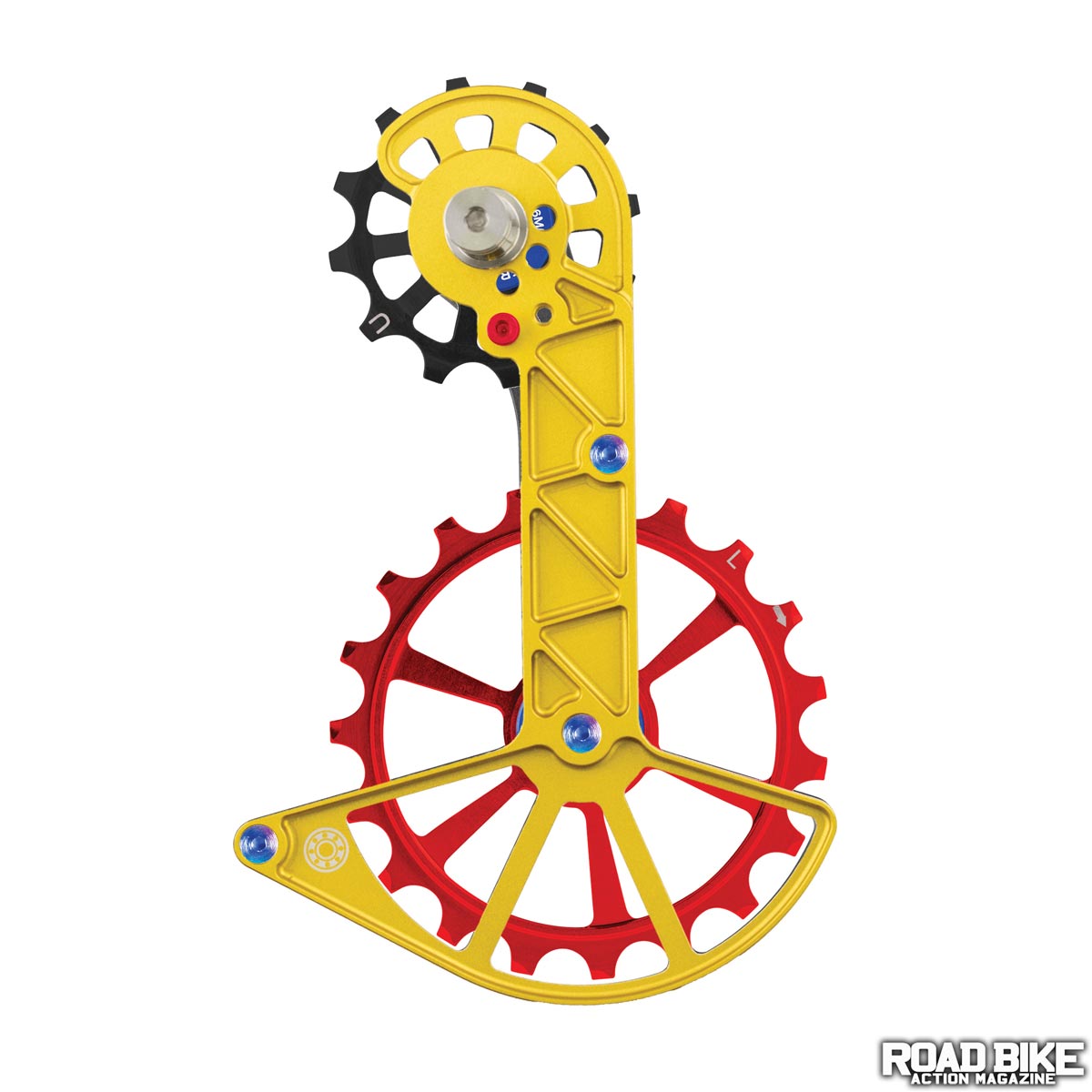 Kogel Ceramic Oversized Derailleur Cage
Kogel is taking custom to a new level with their oversized cage. To start, they utilize a 19-tooth bottom and 14-tooth top pulley. The cage and pulleys are alloy for added stiffness with ceramic bearings. For no added cost you can customize the color scheme with five color options, black, blue, gold, red and raw (silver). There are eight individual pieces that can each get the color of your choice for a true custom look.
Price: $399

BBINFINTE Ceramitec Pulley Set
The Ceramitech road bike pulley set features Delrin 510GR construction, a fiber-reinforced polymer, especially suited to high-strength situations where resistance to deflection is paramount. The Ceramitech bearings are in-molded for absolute security and durability, as well as ease of maintenance. Installation is easy since there is no change to chain length, as these pulleys have the same dimensions and profiles as the stock pulleys. BBInfinite claims superior spin and durability over the stock wheels.
Price: $145

AbsoluteBlack Hollowcage
The wild-looking Hollowcage carbon ceramic oversized derailleur pulley cage pretty much sums up the Absoluteblack offering in the title. It, however, is even more unique in the fact that it utilizes an aero-dimpled carbon-polymer mono-plate design. There is a 12-tooth upper pulley matched with the unique hollow 18-tooth lower pulley, both using ceramic bearings. Currently only offered for Shimano 9100 and 8000 series derailleurs. ν
Price: $699
https://roadbikeaction.com/is-bigger-any-better/