Personally, I believe that the Audi RS 6 Avant is one of the most interesting cars on the market today, a bigger car, with a lot of interior space, even with a lot of luggage space, and this beast produces 591 hp. with a 4-liter turbocharged V8 engine with 8-speed automatic transmission, resulting in acceleration from 0 to 60 mph in just 3.3 seconds with a top speed of 305 km / h or 190 mph … their luggage with them, but there's a downside … she's a big woman weighing 4497 ​​pounds with a total length of just over 5 meters or about 197 inches … but fear not, Audi has just introduced a smaller sibling, the all-new Audi RS 3 sedan.
Although it is a much smaller model compared to the legendary Audi RS 6, the new RS 3 still has a respectable 401 hp. just 3.6 seconds until it suffocates until it reaches a top speed of 180 mph, compare that to the much larger RS ​​6, and it's only 0.3 seconds slower to 60 mph and 10 mph slower at the top … that let's contradict this, almost nothing and will not be able to truly "feel" most people who buy these cars … and another very important piece of information: the new Audi RS 3 managed to set a record circle for compact cars on the Nordschleife Nürburgring with a time of 7 minutes 40,748 seconds, with an MSRP of $ 58,900 it is also much cheaper than the RS 6, sales will begin by summer 2022.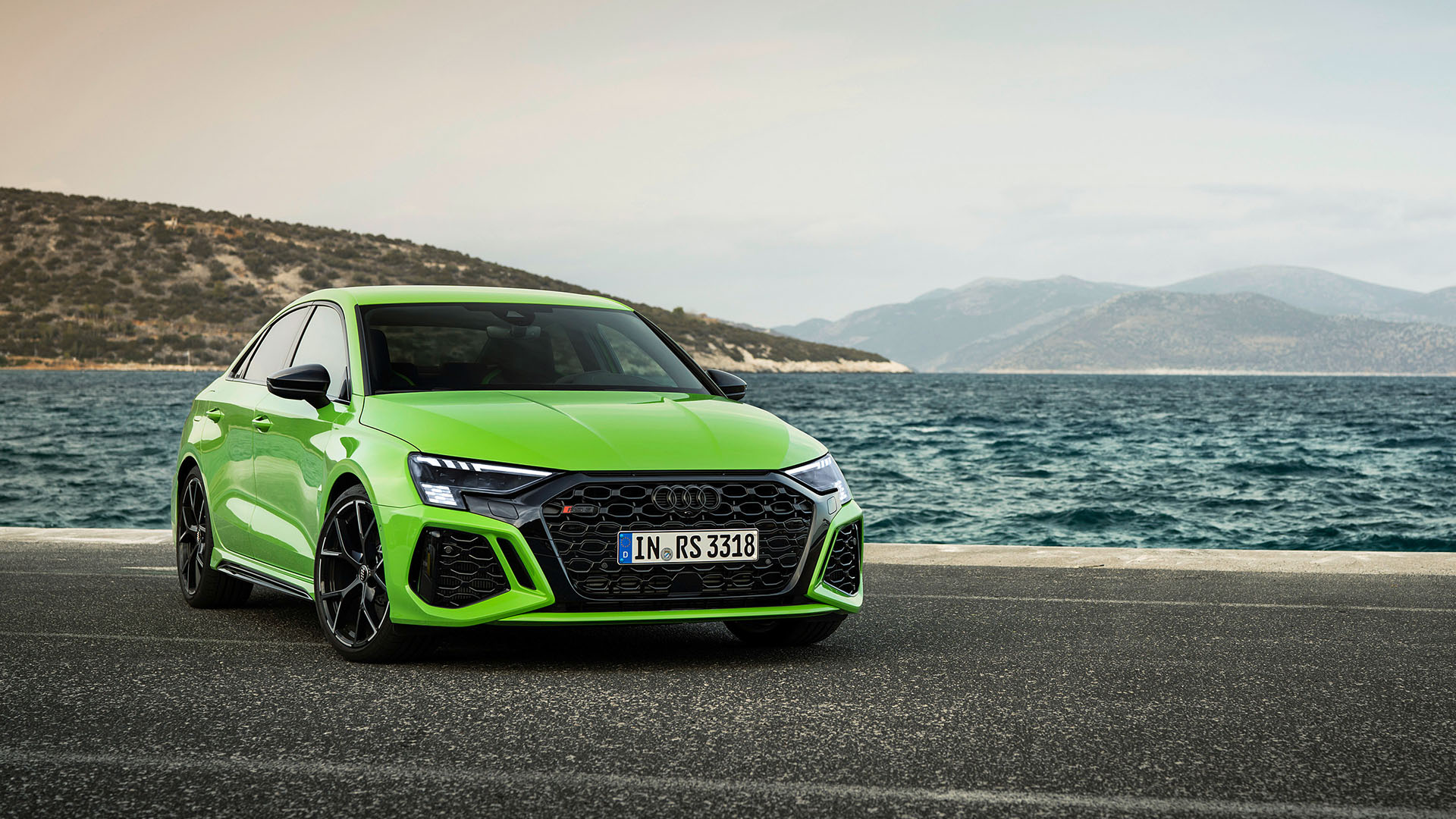 The front-hood engine is a legendary 5-cylinder unit dating back to the 1980s, when Audi introduced so many cylinders in the legendary Ur-Quattro coupe. from Group B rally courses around the world to continue on the IMSA GTO track and even at the Nurburgring in the legendary 24-hour race, this little beauty has earned International Engine of the Year nine times in a row since 2010, so the presence of such an engine in the new Audi RS 3 is just great, and the sound emitted from the large double oval exhaust pipes, causes chills in the spine.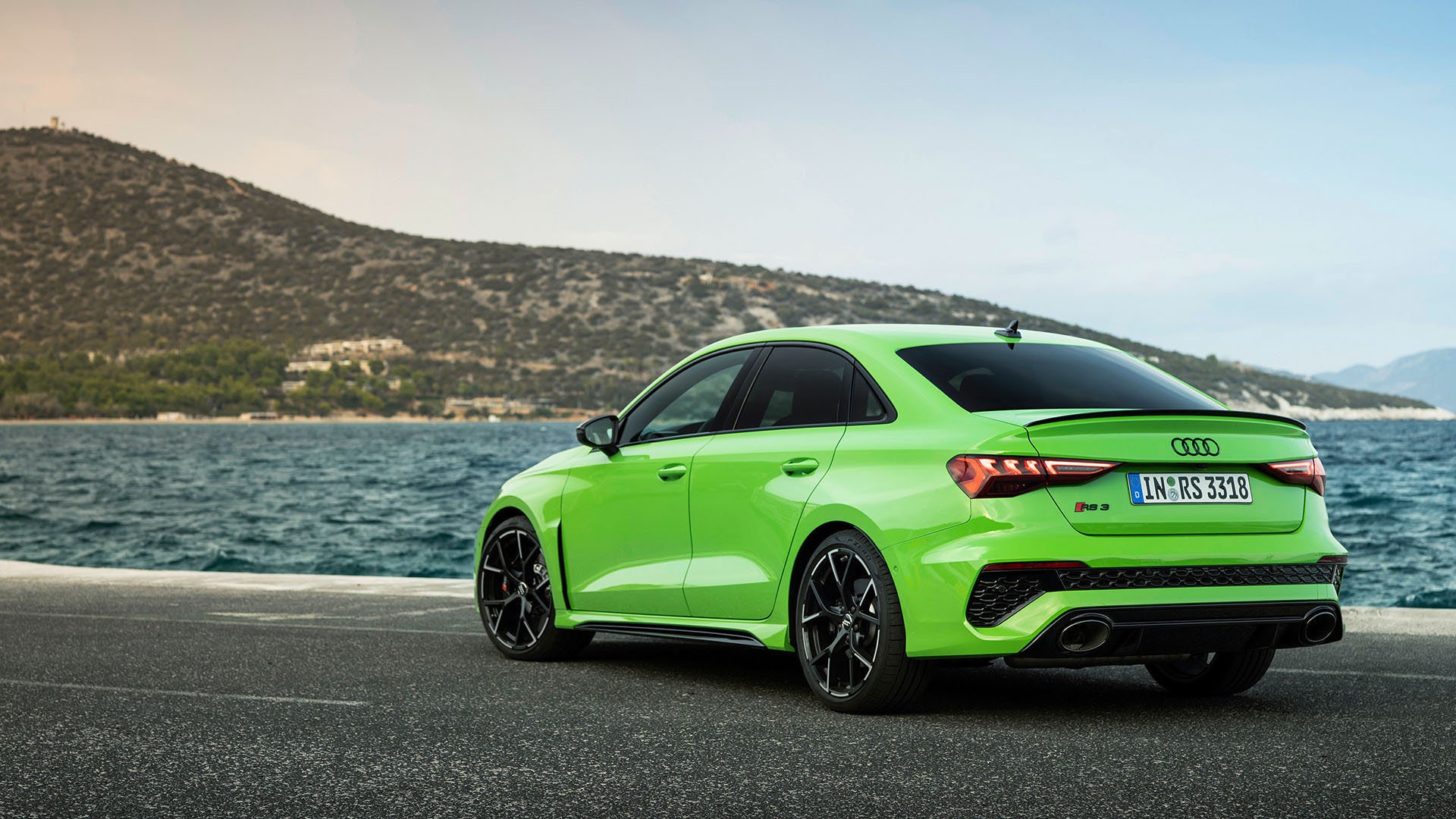 Naturally, the exterior has been quite seriously changed compared to the usual Audi A3, with a special front bumper RS ​​complete with Singleframe grille, which features the famous honeycomb pattern, the front fenders even have a vent, made possible by 33 mm ( 1.3 inches) widened front track, so the wings have grown to cope with this, behind we find an amazing bumper with a full-width insert, making the car look even wider, in the lower diffuser are two massive oval exhaust tips, Exhaust system RS Comes standard with variable valve control, Audi has put together a palette of eight colors, including the stunning Kyalami Green and Kemora Gray, which are custom-made for Audi Sport models.
The standard equipment is a set of 19-inch alloy wheels with tires in a checkerboard pattern, as an option you can install Pirelli P Zero Trofeo R tires for road use, and all these RS-specific things are not only outside, open the driver's door, and An absolutely stunning interior awaits you with a 12.3-inch Audi plus virtual cab as standard, a flashing manual transmission change indicator changes the display from green to yellow to red, flashing in the same way to what is used in motorsport , while the central 10.1-inch dashboard display can be customized to display coolant, engine, transmission oil temperatures, as well as g-force and tire pressure readings.
For the first time, the RS design package includes distinctive green elements, including Micrommata Dinamica green seats, Micrommata green center vents, floor mats with the RS logo and green seams on the edges, green edging and edging. Atlas and center console trim in black glossy gloss. The standard black ceiling frames the interior with additional elements of sportiness.
The new Audi RS 3 comes standard with new and larger front steel brakes with integrated airflow guides in the bumper and chassis, these 6-piston calipers with fixed caliper are equipped with 375 mm (14.8 inch) brake discs and the rear brakes have one calipers with 310 mm brake discs (12.2 inches), all calipers are painted red from the factory, but there are additional upgrades to ceramic brakes, the latter comes with 380 mm (15.0 inch) ceramic front discs that demonstrate powerful braking ability, reducing the overall weight ability by 22 pounds, and remains more resistant to damping brakes due to faster temperature lowering.
For the first time on the Audi RS 3 comes with an RS torque splitter, this is one of the most significant innovations in RS 3 performance. The Audi Quattro supports a rear axle differential with a clutch package that is upstream. now replaced by a multi-disc clutch with electronic control on each propeller shaft. This innovation allows the RS Torque Splitter to fully variably distribute torque for the rear axle between the rear wheels. The result is better stability, especially on wet ground, and improved dexterity during fast turns.
https://www.supercars.net/blog/a-new-audi-rs-3-this-time-the-small-audi-sport-model-is-a-sedan/